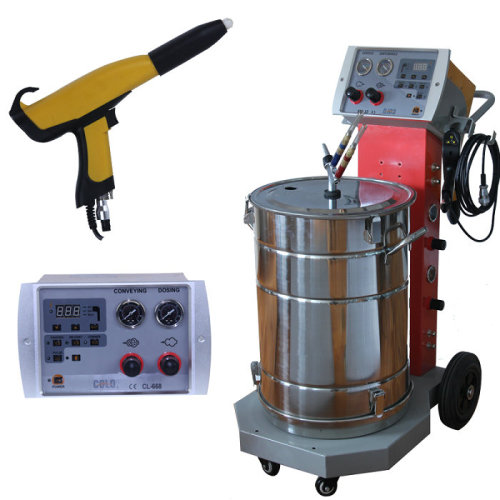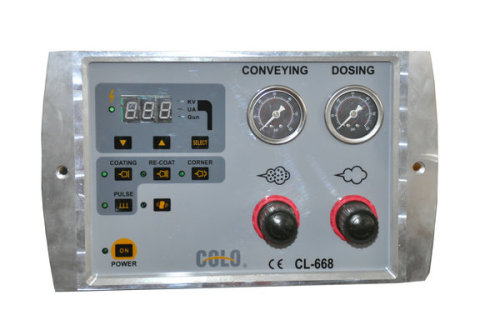 Manual powder coating systems CL-668
Item specifics
Brand

COLO
Spray method

Electrostatic Powder coating
Voltage

110V/220V
Type of gun

Corona
Delivery time

5 days
Description
POWDER SPRAY SYSTEM COLO-668
Powder Coated Aluminum Fencing
Powder Coated Aluminum Tubing
This is heart of the powder paint shop, Normally an electrostatic powder spray system is usted, this sprays electrostatically charged powder into the spray booth where the articles to be coated are hung. Electrostatic forces provide a uniform and
consistent coating quality.
Operations very convenient, and have function of one key to control and choose the models.
*Blind angle model
*Respray model
*Pulse model
*Plate model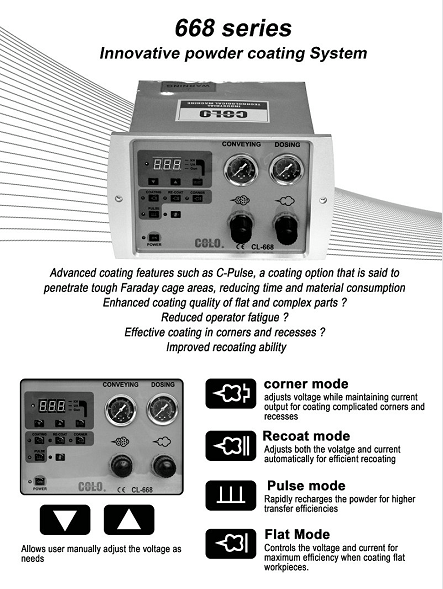 This model apply the more easy spray method
Combine digital and electric analogue
Perfect result of coating, best control system
Based on COLO tecnology , realize the high performance and efficiency
Updated the actually powder coating machines
Form a uniform thickness and higher quality
Amazing adhesion , reduce the powder using
Specifications:
Weight of Gun :460g(16.2oz.)
Length of Gun: 340mm(1.1ft.)
Power Source: AC220V/110V
Frequency50~60Hz
Power Consumption:30W
Voltage Output:100kV
Max. Current Output:180㎂
Polarity: Negative
Max. Injection Capacity: 650g(22.9oz.)/Min
Air Consumption: MAX. 13N㎥/h
Temperature Rage in use-10~50℃(-14~22℉)
Match with
COLO-07 Powder Spray Gun
COLO-08 Powder Spray Gun
THE RELATED SPARE PARTS FOR POWDER COATING MACHINES.